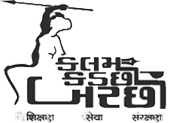 Nagars have been given three symbols according tothe Skand purana. Gnatibhaskar- by Jwalaprasad Mishra also speaks of the three symbols of Nagars:
Kalam(Pen):- Kalam denotes intellect, literary proficiency, Depth in thought, administrative skills and statesman. It is said that the writings by Nagars, on any subject, are always the best.
Kadchhi(Ladle):- Kadchhi is a culinary instrument denoting the proficiency of Nagar men and women in culinary efforts. The food in a Nagar household is always tasty healthy and hygienic. Kadchhi however, depicts a much larger quality of Nagars. The main purpose of kadchhi is to stir the food and to serve the same. In a sense the Nagars serve the purpose of stirring the society by their revolutionary ideas, thoughts and deeds and at the same time also serve the needy and deprived ones in the society. Nagars are always the server of food and never itself the consumer, like the Kadchhi.
Barchhi(Small spear):- Nagars have fought many a battles to safeguard their culture, religion and the Nation and therefore Barchhi denotes the bravery, fearlessness, valour, and courage of Nagars. Barchhi also denotes the willingness of Nagars to fight injustice and fight for the rights of weak, incapable, defenseless and poor.
As above mentioned Kalam Kadchhi Barchhi represents Nagar community,also Our magazine is doing same,that's why our magazine is known as 'Kalam Kadchhi Barchhi'.
These details are provided by Mr.Rohit Nagar
History
Kalam Kadchhi Barchhi is a leading Nagar community magazine.It is published since 1955.It was established by late Mr.Shantibhai Dholakia.He served the community for many years by publishing Kalam Kadchhi Barchhi with motto of 'Shatnagar ekta'.
One interesting fact of Kalam Kadchhi Barchhi is,at starting time of Kalam Kadchhi Barchhi first subscription was Rs.3.60 only!By great efforts of Mr.Shantibhai Dholakia Kalam Kadchhi Barchhi has became more popular in Nagar community.
After the death of Mr.Shantibhai Dholakia Kalam Kadchhi Barchhi continues its existence under leadership of Mr.Viren S.Dholakia.Now Kalam Kadchhi Barchhi has its circulation in whole India
Objective
Kalam Kadchhi Barchhi provides platform for every Nagar to share his achievement in education and career and social achievements like marriage.Also Kalam Kadchhi Barchhi gives opportunity to publish their writing skills like articles,poems etc.
Kalam Kadchhi Barchhi helps students to find scholarship for their educational career,by publishing scholarship information provided by community organizations.
In 1977, Kalam Kadchhi Barchhi started matrimonial services at no cost.From that time number of families are taking advantage of this service and they have its fruitful results.
BARCHHI.com
BARCHHI.com is a Nagar community website.It was introduced to bring Kalam Kadchhi Barchhi to global level.During three years of BARCHHI.com,it has experienced many changes in its features..
In the first year,Website was introduced with facility to read Nagar community magazine Kalam Kadchhi Barchhi online.In the second year online matrimonial portal 'Wed-help' for Nagar community was introduced.
Aim of BARCHHI.com
As our motto suggests 'Path to Nagar Globalization',aim of BARCHHI.com is to unite the Nagar community,and to create one destination for Nagars to meet and to share their ideas and thoughts.